100% Secure Online Shopping
Free Delivery Over £75
35 Stores Nationwide
5 Amazing Benefits of Podiatry Treatment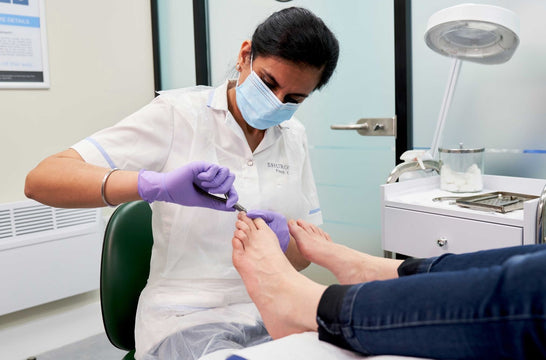 75,000 miles. That's how far the average person has walked by the time they're 50. Yes, you read that right. 75,000. It's a significant distance, right? Not to mention an immense strain on your feet; but they don't have to carry the burden alone.
Podiatry Treatment: You Fast Track to Fantastic Foot Health
Regular podiatry treatment can have a profound impact on your overall foot health, putting that all-important spring in your step. Life affirming, soul-nourishing and utterly essential to your wellbeing – both in foot care and general senses - regular podiatry treatment possesses a range of benefits that, in our humble opinion, isn't given the attention it deserves.
At Shuropody – the UK's largest provider of podiatry services – we pride ourselves on our expert knowledge on all things foot care related; and what better way to celebrate International Podiatry Day than to share that knowledge with you?
Your route to fantastic foot health starts here.
Podiatry Treatment Relieves Pain and Treats Infections
Your feet are amazing. They are. Trust us, we're experts! But even the most awe-inspiring appendages can suffer from time to time, and, given how long we spend on them, it's imperative that we stay attuned to our foot health needs.
From treating skin lesions, corns, verrucas and bunions, to more complex foot care issues such as toenail reconstruction and treatment for fungal infections, regular podiatry treatments can address a variety of foot health issues, meaning you don't have to miss a step!
Moreover, biomechanical podiatry services can help you identify and treat circulation issues, bone and structural issues and even diabetes-related ulcerations.
And podiatrists can glean all that information from a simple biomechanical assessment. Amazing!
Podiatry Treatment can Identify Possible Health Conditions
Podiatrists are experts in all things foot health, and able to gather all the information they need to identify potential health conditions from just your feet.
After all, our feet reveal much more about our overall health and wellbeing than we may realise, and seemingly unconnected issues – dry skin or brittle, discoloured nails, for example – as identified during a routine podiatry treatment, can provide a podiatrist with all the insight they need to detect more health issues such as diabetes, and offer advice on how to proceed.
An ostensibly everyday appointment – our one-hour foot M.O.T, for example – can make an enormous difference to not only your foot health, but your overall wellbeing, too.
Regular Podiatry Treatment Supports Long-Term Foot Health
It may be cliched, by the phrase 'prevention is better than the cure' applies tenfold when thinking about the benefits of podiatry services for long-term foot health; especially when considering issues of balance, gait, and comfort.
Using their unparalleled foot health expertise, a podiatrist can perform tests – from circulatory checks to our FootBalance assessment - to identify any undiagnosed foot care issues, before recommending bespoke treatment, whether specific supportive footwear, orthotics or even specialist socks.
Podiatry Treatment Is Essential for People with Diabetes
Diabetes can take a huge toll on your foot health, reducing blood circulation and damaging nerves to the feet. As such, regular podiatry treatments and assessments are vital to an overall diabetes care plan.
As part of standard podiatry services, a podiatrist can assess the extent of nerve damage to your feet, and recommend appropriate solutions, from footwear to lifestyle changes, ensuring that problems are anticipated and addressed before they worsen.
Podiatry Treatment Improves Quality of Life – Physically and Mentally
We spend a lot of time on our feet. (In fact, an average adult clocks up an astounding 478.3 million steps in their lifetime.)
And with so much time spent on our feet, foot pain is, unfortunately, inevitable. Indeed, issues pertaining to foot health can have an immense impact on other areas of the body, such as the hips, knees, and spine, but can also have a detrimental effect on our mental health; with people suffering chronic foot pain reporting higher levels of stress and depression.
But foot pain needn't impinge on your physical or mental wellbeing, and regular podiatry treatment can alleviate foot care-related stress, whilst addressing any biomechanical issues exacerbated by foot pain.
Put simply, podiatry treatment can put a spring in your step; figuratively and literally.
If you'd like to book a podiatry treatment, delivered in one of our modern foot clinics by one of our HCPC registered podiatrists you can do so here. 
Be sure to check out our orthotics page for more information on how they can help you achieve peak foot health.