100% Secure Online Shopping
Free Delivery Over £75
35 Stores Nationwide
AW20: Our Best Boots for Comfort, Warmth & Style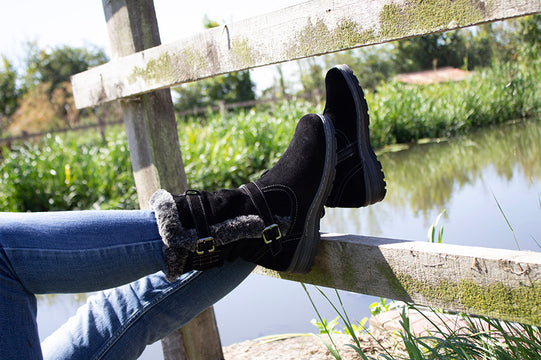 From the crunching sounds of freshly fallen leaves to spectacular golden views, the beautiful transition from summer to autumn has well and truly started. As temperatures begin to plummet, you'll be wanting to update your wardrobe ready for that cold, autumn chill. Well, you're in luck because our boots are well-equipped for the cool months ahead. From statement-making knee-high styles to the classic Chelsea boot, here are our best boots that combine comfort, warmth, and style into one.
Kick-start the new season with our boot-iful new arrivals.
Sandra91 – Tan
A timeless classic. Designed by Josef Seibel, these tan ankle boots ooze style and sophistication.
Key features:
Wide Fit
Removable insoles
Denville – Green
A traditional Chelsea boot with a sleek, rustic twist. Denville ticks all the boxes this season.
Key features:
Warm-Lined
Memory Foam Insole
Pelsall – Brown
Reach new heights with the utter elegance of these leather crafted Pelsall boots.
Key Features:
Extra Cushioning Sock
Wide Fitting
For a brighter option, opt for the magnificently cosy Melodie in a rich red.
Key features:
Irresistible Faux-Fur Lining
Soft Suede Upper
Sienna74 – Black
These brogue detailed Josef Seibel boots are the ultimate combination of style and functionality.
Key features:
Removable cushioned insoles
Wide Fitting
Minnelli – Black
A best-selling style, Minnelli is soft, cosy and irresistibly warm.
Key features:
Warm Faux-Fur Lining
Memory Foam Insole
Pepper - Tan
These boots feature a lovely knitted cuff. They're a casual day-to-day style that will keep your feet snug this season.
Key Features:
Memory Foam Insole
Warm Lining
Another of our best-selling styles. Naly24 is sleek, comfortable and incredibly versatile.
Key Features:
Removable Cushioned Insoles
Wide Fitting
For Men
Krish – Brown
Casual styling made easy. These Krish men's boots are an everyday essential.
Key features:
Removable Insoles
Lightweight & Flexible
Hand-crafted with care. Campina is sleek, comfortable, and supportive.
Key features: