100% Secure Online Shopping
Free Delivery Over £75
35 Stores Nationwide
Anatomic: Our Brand New Collection for Men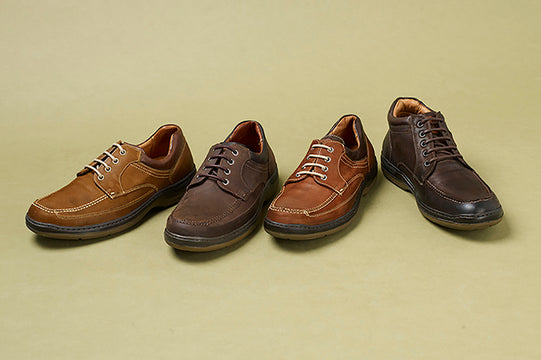 Introducing our BRAND NEW range of supreme quality men's shoes, by Anatomic & Co. Not only are Anatomic shoes exceptionally stylish and luxurious, but they also offer unbelievable comfort through their innovative designs. Every single pair of Anatomic shoes uses the finest Brazilian materials to give you the utmost support. Each of their especially designed soles are 100% rubber and recyclable, providing an eco-friendly and supportive foundation for your feet.
What makes Anatomic & Co so special?
Made from super soft natural leather
Handcrafted in Brazil
Breathable design
Padded ankle support
Soft sheepskin footbed
99% biodegradable
Leather hinged insole
Antibacterial layer
Anatomic Gel Technology
Combining environmentally friendly designs with comfort-inspired innovations, Anatomic are the ultimate footwear brand for luxury comfort and care.
Top Secret Ingredient
Wandering how Anatomic achieves such unimaginable comfort? Well, their Anatomic Gel Technology holds the answer. Their miracle formula is cleverly constructed within each shoe, aiding your natural foot movement, so you can walk with ease. The gel works by providing incredible stability and relief for your feet. Developed using 25 years of in-depth research, their unique gel technology is the top-secret ingredient in these remarkable and wonderful shoes.
The Range
Exceptionally sleek and versatile, Campinas is the ultimate boot to sport this season. Complete with a simple lace-up fastening, they add a touch of sophistication to any outfit.
With a flexible elasticated side gusset and a simple slip-on design, Cardoso offers a smart yet casual boot that can be worn all day long with ease.
A smart and sophisticated design, Day by Anatomic offers incredible all-day comfort and style. The perfect shoe to get you through the day!
A casual yet stylish design, Gurupi is an everyday essential. Complete with a simple lace-up fastening, along with stunning stitched details, they'll quickly become your new casual favourite.
Made from natural grained leather with a stylish lace-up fastening, these stunning men's shoes will be a valuable addition to your wardrobe.
Sleek and stylish, Leme gives you a real taste of luxury in a shoe. Ideal for both smart and casual occasions, they'll take you from day to night in style.
The perfect combination of ease, comfort and style. These simple slip-on Rodrigo shoes offer a unique and versatile design that adds a touch of luxury wherever you go.
Get a real feel for luxury in these exceptionally stylish Tapajos shoes by Anatomic. Hand-crafted with precision and care, they're the perfect recipe for style and comfort.