100% Secure Online Shopping
Free Delivery Over £75
35 Stores Nationwide
World Diabetes Day: 14th November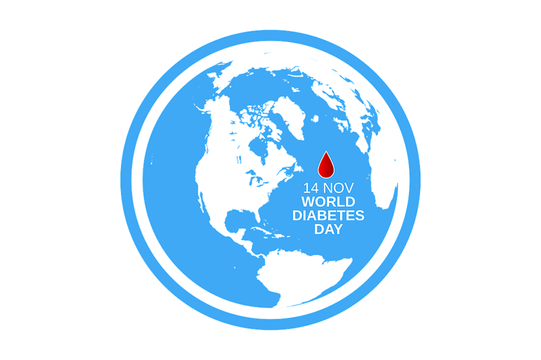 With millions of people affected by diabetes every single day, it's only right that we dedicate a day to this serious and lifelong disease. Celebrated on the 14th November, World Diabetes Day aims to raise awareness of all thing's diabetes related. Whether you suffer from the condition yourself, know someone who does, or simply want to find out more about the risks, diabetes is something that should never go ignored. It's time to donate, educate & celebrate World Diabetes Day!
Some interesting facts about Diabetes
The number of people with diabetes is increasing every year, with around 4.7 million people suffering from the condition in the UK. In fact, someone is diagnosed with diabetes every two minutes! The number of people with diabetes has more than doubled in the last 20 years, and about 90% of sufferers have Type 2 diabetes. What's more, is that OVER HALF of all type 2 diabetes can be prevented or delayed with simple diet and lifestyle changes. World Diabetes Day not only helps treat current diabetics, but it's also the perfect opportunity to raise awareness and help prevent future sufferers.
A brief history about World Diabetes Day
First introduced in 1991, World Diabetes Day was founded by the International Diabetes Federation and the World Health Organisation to raise awareness for diabetes. Due to the rise in diabetes across the world, they thought it would be a great idea to dedicate day in the year to the condition. The day was chosen as the 14th November, as this was the birthday of Sir Frederick Banting, a medical scientist who helped to discover Insulin. He was also the first person to use it on humans!
Feet & Diabetes
Diabetes can lead to various complications with your feet. This is because prolonged high blood sugar levels can cause nerve and blood vessel damage. Due to the raised blood sugar, diabetes puts you at higher risk of the following:
Loss of sensation – Unstable blood glucose levels can cause damage to the nerves in your feet. This can lead to numbness and even complete loss of sensation in your foot.
Circulation problems – Diabetics are prone to having issues with circulation. A lack of blood supply to the feet can lead to painful cramping, ulcers or swelling.
Stunted wound healing – When blood isn't able to flow properly, especially to your feet, this can cause cuts and sores to not heal efficiently. Left untreated, these can become infected and in severe circumstances, could even lead to an amputation.
DID YOU KNOW? According to recent statistics:
Around 70,000 and 90,000 people with diabetes have a foot ulcer in any given week.
More than 4 in 10 people who have a foot ulcer will die within five years.
Diabetes leads to more than 8,500 leg, toe and foot amputations every year…that's more than 160 a week!
Do you suffer from diabetes? If so, then it's well worth a visit with one of our highly qualified podiatrists at Shuropody. We can perform a professional Diabetic Foot Assessment to ensure your feet are happy and healthy! Find your nearest clinic here.
Why is suitable footwear SO important for diabetics?
In honour of World Diabetes Day, it seems only right to discuss the importance of well-fitting footwear for diabetes sufferers. Due to the increased risk of foot complications, wearing the wrong footwear can have severe consequences for your feet. The good news is, that wearing the right footwear will decrease your risk of any nasty foot problems.
Wearing footwear that is too tight, narrow or loose can encourage your feet to rub against your shoes, making it more likely that you'll develop painful blisters and ulcers. As diabetics are also prone to swelling, they should always look for shoes that are extra-wide, extra deep and well-fitted.
Shoe guide for diabetics
With the potential implications that diabetes can have on your feet, wearing the right footwear is essential to keeping your feet healthy. Here's our ultimate guide to diabetic footwear.
Housing a flexible construction, with a soft faux-fur collar for exceptional warmth and cosiness. These podiatrist-recommended slippers are wide fitting with a deep toe box, making them the perfect choice for diabetics.
Save 15% with code: SAND15 (Valid until the 14th November 2019 only)
Suave Millie – Burgundy
Ideal for when you're out and about, these slip-on shoes contain an extra-wide fit with a super lightweight and flexible design. Approved by podiatrists, these leather crafted shoes offer exceptional comfort and support for diabetics.
With two removable insoles, offering a comfortable fit, these ultra-wide, super soft leather boots are a great match for diabetes sufferers. The extra long adjustable strap ensures maximum comfort and ease.
Save 15% with code: SAND15 (Valid until the 14th November 2019 only)
An everyday essential! Wide fitting with two removable insoles and a cushioned footbed, these ballerina shoes offer 'must-have' comfort and support.
You can view the rest of our Women's Wide Fit Footwear range here.
For Men
Complete with underfoot support, removable insoles and an ultra-wide fit, these soft, flexible slippers perfectly cater for diabetic feet.
Save 15% with code: SAND15 (Valid until the 14th November 2019 only)
Featuring padded ankle support with two removable insoles, these ultra-wide fitting shoes offer the ultimate support for diabetic feet.
Save 15% with code: SAND15 (Valid until the 14th November 2019 only)
You can view the rest of our Men's Wide Fit Footwear range here.
At Shuropody, we are proudly in aid of Diabetes UK. 
Happy World Diabetes Day!