100% Secure Online Shopping
Free Delivery Over £75
35 Stores Nationwide
Christmas Charity Collection 2020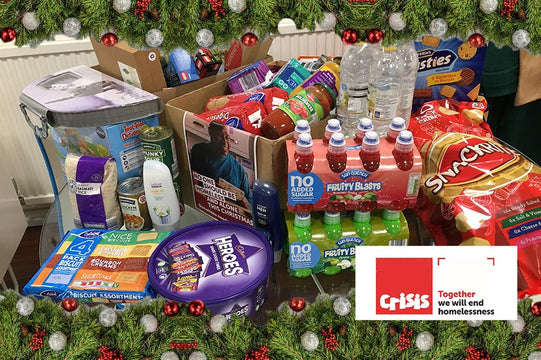 While we can all agree that 2020 has been a struggle for many, we know there are lots of people suffering more than most this festive season. With homelessness on the rise, and people of all ages struggling, this Christmas, instead of the traditional 'Secret Santa', we decided to spread some Christmas cheer to those who are less fortunate than ourselves. With a charity collection, we wanted to bring some tidings of comfort & joy. After all, everyone deserves to be a part of the festivities!
Together at our HQ, we donated a collection of useful goods & gifts, helping the homeless and those in need. From delicious treats to toiletry essentials, we wanted to sprinkle some kindness this festive season.
We selected two local charities to donate to, Crisis Coventry and Rugby Samaritans. Both these charities help combat homelessness and support those in critical need of help.
Our charity collection included an abundance of goodies, including:
Food & drink
Books
Magazines
Toys & games
Toiletries
Stationary
Gloves
All the office team at Shuropody came together to donate these lovely and vital gifts that we know will be greatly appreciated this cold, bitter winter. A bit of generosity can go a long way.
Crisis Coventry
The charity's aim is to help end homelessness for good. This is done through various ways such as education, training, and support. They offer valuable support with housing, employment, and health.
They rely on donations at this time of year to help make a difference and raise people's spirits, at what should be the most wonderful time of the year.
At this magical time of year, it's important to be kind. At Shuropody, we believe that a little can go a long way. We hope that our generosity will bring some joy and hope to those who really need it this Christmas.
Wishing everyone a wonderful Christmas in these unusual & unprecedented times.
Best wishes,
The Shuropody team 👣