100% Secure Online Shopping
Free Delivery Over £75
35 Stores Nationwide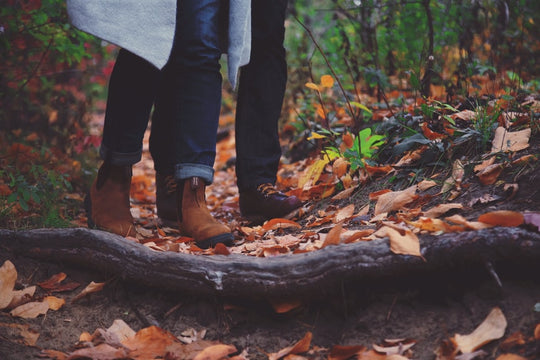 Orange leaves crunching beneath the heels of your new autumn boots. A warm, fragrant drink in your hand. Digging out your faithful knitted jumper (to pair with said autumn boots).
Whether you're pulling on a brand-new pair of autumn ankle boots and grabbing a book for a cozy afternoon spent reading in the corner of your favourite coffee shop or donning your sturdiest wellingtons for a muddy trek through the woods, we've got all your autumn boot needs covered.
From robust, waterproof hiking boots to stylish-yet-supportive brogues, our collection of autumn boots has you covered for any eventuality; all you need to do is decide where your autumn boots are taking you.
Here are our picks for the best autumn boots 2021:


Rayleigh
A bona fide classic in women's autumn shoes! Fashion and function in perfect harmony, Rayleigh by Hush Puppies aren't the only example of autumn ankle boots on our list, but they are our go-to for something timeless, elegant, and comfortable.
Bellatrix
There are autumn boots, and then there are autumn boots. Effortlessly stylish and enormously versatile, our Bellatrix may not have been designed to create envy in the field of women's autumn shoes, but, well… how could they not?
Cirencester
There's a common misconception about men's autumn shoes, isn't there? That it's a trade-off between fashion and function, with function always coming out on top. Well, Cirencester disproves that theory - and then some! A robust, yet trendy member of the autumn ankle boots family, pair these with denim for an all-purpose autumn look. 
Cardoso
You didn't think we'd leave it at just one entry in the men's autumn shoes category, did you? Practical and elegant, Cardoso represents autumn boots excellence; tailored for superb grip on wet surfaces and with a luxurious soft sheepskin lining.
Freesail Chelsea
Back in women's autumn shoes with Crocs' Freesail Chelsea. No autumn boot collection is truly complete without a Chelsea boot, and these highly versatile, ultra-comfortable boots are equally at home on a stroll around the park or a stride to the office.
Adelaide
A perfect example of women's ankle boots for those who desire comfort and practicality, but don't want to skimp on flair, these will work with a variety of outfits, in a variety of situations. (Autumn boots can be spring boots, too!)
Derrymore
And rounding off our list of the best autumn boots 2021, Derrymore. While this list isn't in ranked order, for us, the Derrymore is a quintessential example of women's autumn shoes – as durable as they are comfortable, and utterly guaranteed to turn heads on your autumn walk.
There we have it, our top picks for autumn boots 2021. No matter what your choice, you're certain to make a splash whether embarking on a long, relaxing hike through misty woodlands, or soaking up the city ambiance.
View our full range of women's footwear here. Shop our complete collection of men's footwear here.
Looking for rainy day footwear inspiration? Here's our round up of the best waterproof footwear for a rainy day.