100% Secure Online Shopping
Free Delivery Over £75
35 Stores Nationwide
A Guide to Insoles with Shuropody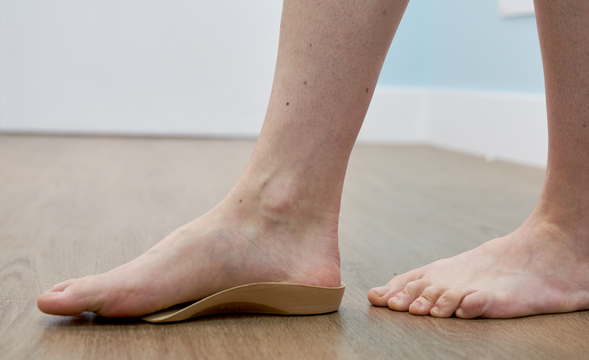 Struggling to find comfort for your feet? Not sure what insole will best suit you? Worry no more! We're here to help break-down our most popular insoles so your feet can stay happier for longer!
Most people could benefit from an orthotic as over 70% of the population have some degree of low arches.
At Shuropody, we have a wide range of orthotic insoles – not only for specific conditions but also for specific use. Offering added support by relieving day-to-day pressures, our insoles can be personalised to fit securely into your shoe and provide you with the long-lasting cushioned comfort you deserve. 
Signs that you may need arch support include:
Foot pain, ankle pain, knee, or back pain
Hard skin build-up on the outside of the big toe and toe joint of the big toe (this can be caused due to pressure from feet rolling inwards when the arch is not supporting the foot correctly)
Off the shelf orthotics are a good place to start when finding your perfect insole, as they are designed to be easy-to-wear and offer effective support. We always recommend you build up usage if you have not worn them before, to allow your body to acclimatise to the positive changes the insoles will make to your posture.
Let's dive into our insoles and take a closer look… 
Suitable for all, this is our most popular off the shelf orthotic. Featuring good overall support and comfortable to wear, you can fit this insert in a wide variety of shoes.
Perfect for everyday arch support, the heel cup and heel posting means additional control is added to minimise unwanted movement or 'rolling' for people whose low arches cause stability problems.

Includes antimicrobial top cover for added freshness and is also vegan-friendly!
With its cutaway ¾ design, this insole is suitable for women's footwear and narrower footwear styles such as, heels, sandals, or brogues. The cutaway section can help with specific conditions which require added mobility in the toe joints.
Offering good overall support and extremely comfortable to wear, this insert is also antimicrobial covered and vegan friendly.
It says it in the name! A very comfortable and cushioned insole for those who are on their feet all day.
Offering medium to firm arch support, this product is suitable for customers with plantar fasciitis, as the heel is designed to minimise impact on inflamed areas when walking.
A great all-round supportive insole.


The Ultra ¾ length insoles are great for seasonal shoes and fits well into enclosed boots due to the sleek, minimal silhouette. It is perfect for sandals and is virtually invisible when worn! Help build good arch support and healthy daily foot function with this product.
Endurance is designed for people in hardwearing footwear – it is great for hard soled boots. Featuring a toughened arch support and full length in design, this orthotic also has a gel covering to provide cushioning for the ball of the foot. A great choice for those on their feet in tough environments.
And even better, the insoles can also be trimmed to fit your shoes!
Foot Clinic Sensitive
A full-length soft insole which provides maximum comfort. Our sensitive orthotic is made for what it says on the box… sensitive skin. Designed with a moisture-wicking top cover to minimise irritation and a thick foam cushioning to support the whole foot, this is a great product for patients with diabetes, arthritis, and delicate skin.
Just like Endurance, this orthotic can be trimmed down to fit your shoe. However, as it is quite thick, it is important to have footwear that has plenty of room to accommodate the insole.
 
Best of both with Slim Fit. This product is a dual action insole with both arch support and metatarsal dome built in. It is great for patients who require multiple areas of control.
The metatarsal dome can help with nerve pain in the ball of the foot, tightness/stiffness in the toe joints, and relieve pain and pressure for patients with Morton's Neuroma. This product is not suitable for everyone, so check with a professional first!
Keep it natural with the slightly slimmer ¾ length insole, perfect for a wide variety of shoes and features a breathable leather top for a 'natural' finish. This is an excellent everyday support with extra cushioning on the heels to make you feel like you're walking on clouds!
We would recommend this for active people who want a good all-round everyday insole.
Recommended for those who engage in sports and other higher-impact activities due to its targeted poron layer. The slim profile on these insoles means it's much more versatile and suitable for a number of different shoe types.
It can also be trimmed to fit shoes and is vegan friendly!
Targeted specifically to relieve ball of foot pain. Featuring a gel metatarsal dome that provides a gentle but effective support to the toe joints to reduce pain and pressure in the ball of the foot.
These easy adjustable insoles are ideal for patients with Morton's Neuroma and other similar nerve conditions, so be sure to check with a professional if you need a metatarsal dome insole first!
Alternatively, custom made insoles are great for arch support. It is a great starting point for when you are buying insoles. For more information, visit your local Shuropody store for a free Footbalance assessment.
Important: If you have been prescribed orthotics for a specific issue of condition in the past, always check with a podiatrist first before buying any off the shelf items to make sure you are supporting your feet correctly.

Read more from our Head of Podiatrist, answering your questions on insoles and orthotics here.